13 Point32 therapists in Massachusetts
Take advantage of your Point32 insurance plan. Book an appointment through Grow Therapy with a qualified and trusted Massachusetts in-network therapist. Search through different certified mental health providers below and choose the best therapist for you.
Take advantage of your Point32 insurance plan. Book an appointment through Gr...
If you are looking for a warm, welcoming place to discuss any issue, thought, or problem you've been dealing with without judgment or closed-mindedness, then I could be a great fit for you! I have a Masters degree in Clinical Psychology, and I'm licensed as a mental health counselor in Massachusetts. I have a very friendly, laid-back personality and am always eager to help. I use a lot of humor in my general approach; however, I am also very comfortable working through serious and difficult subjects in a calm, supportive way. I'm a very happy, positive person and can always find a silver lining in almost any situation! I've been in the human services field since 2011, and my experience is very diverse. I have a lot of experience with substance abuse, depressive and anxiety disorders, PTSD, and ADHD, both through inpatient, outpatient, and community-based treatment. Additionally, I have experience with domestic violence, the Department of Children and Families (DCF), foster care regulations, and the Massachusetts legal system. My therapeutic approach pulls from several different types of therapy, and though I'm mostly based in Cognitive Behavioral Therapy (CBT), I'm also able to utilize different approaches and techniques as needed. I am very open and welcoming to feedback, as well as flexible, so I always encourage people to share what they want and need while we're working together so that I have a chance to help or adjust accordingly. I've also worked with clients of all ages from all kinds of ethnicities, religions, and backgrounds. Once we build a positive relationship with open and honest communication, I am confident I can help and support you in reaching your goals! A promise to you, as my client: I will always work at your pace, so you'll never feel rushed, and we'll always focus on whatever issue you feel is most important or urgent. Remember, you know yourself better than anyone else ever could, so I will never assume that I know what's best. My job is to listen, support, and provide you with the tools to be able to manage your feelings and your life, so you can accomplish the things you hope to achieve!
My first name is Mi Ok (two words, one name, pronounced "me-oak"). (South) Korean American. Adopted. Mature cis-gendered woman. QIPOC/BIPOC-sensitive & culturally competent. Lesbian-identified. Licensed Independent Clinical Social Worker (LICSW) in RI & MA. Visual Artist. Writer & Poet. My passions include colored pens on gray paper drawings, Canine/Feline Rescue & Mustang/Wild Horse advocacy. I seek out truth & honesty. This is your opportunity to celebrate who you are & to respect your dignity & humanity. I honor your bravery & courage as we embark on your journey of empowerment, self-discovery & awareness through therapy. I hope we can walk together down your path of healing. Thank you! www.Instagram.com/averyfinecoloredline
I am a motivated professional with a proactive, positive approach to service; reinforced by multiple years of experience with knowledge of personnel management principles and clinical practices in human or social service systems. I have been fortunate to have an array of experiences working in corrections; additionally, creating and facilitating IOP and PHP programs that addressed substance abuse and mental health issues. As a practitioner, diagnose utilizing criteria set forth in the DSM-5 and provide psychotherapy services to children, adolescents, adult individuals, and families who suffer from brief and long-term modalities such as: - Depression, mood disorders, anxiety, divorce - Child and adolescent issues - School concerns - Marriage, Couple, Family Counseling - Autism Spectrum Disorder - Parenting issues Additionally, provide EAP services for ESI EAP, UBH EAP, Compsych EAP, Aetna EAP, and CIGNA EAP as well as work closely with Veteran Administration to provide mental health counseling services via VCCN through Optum/UBH.
Dr. Olushola Bakare, LMFT, EdD
(she/her)
My name is Dr. Olushola Bakare, and I'm a board-certified Psychotherapist. I attended St Joseph College. I'm happy to help you today with any of your concerns. I enjoy empowering people and digging out their strengths. I don't ask fish to fly, neither do I ask birds to swim. I respect everyone's strengths and help my client be aware of their strengths. I love to highlight my client's strengths. I offer a safe, warm, therapeutic, judgment-free space for Adults (18+) and Older Adults (65+). I am sorry, but I do not accept clients who pay in cash. It is my ethical duty to officially terminate our therapeutic relationship when it is reasonably clear the client is no longer beneficent, when services are no longer required, when counseling no longer serves the needs and/or interests of the client or when Dr Olushola Bakare, LMFT limits do not allow provision of further counseling services. It is the policy of Dr. Olushola Bakare, LMFT, that after a one-month consistent lapse of meeting with a client our professional relationship will be considered terminated. Dr Olushola Bakare, LMFT, will make an attempt to notify you of this change in status as soon as possible after the one-month period. It is my ethical duty to identify, be available, and care for current clients. This could possibly feel awkward for our relationship to end yet, is not meant to be discourteous in anyway.
Krystyna Ksiazek
(she/her)
My name is Krystyna Ksiazek. I live in Massachusetts. I am a Licensed Mental Health Clinician. I have been practicing psychotherapy for 29 years and never got sick of it. Seeing my clients succeeding, whether in therapy or their private life adds meaning to my work. My area of interest is Trauma and Complex-PTSD, Anxiety Spectrum Disorders such as Obsessive-Compulsive Disorder, Agoraphobia, phobias, Eating disorders, Depression, and Grief. Also, I have experience in the treatment of anger management problems, self-harm behaviors, and dissociative/split personality disorders. I like working with Young Adults, Adults, the Elderly, men, and women. I like to reach out beyond the traditional scope of therapeutic interventions, to alternative medicine based on the homeostatic model of health. I want to help clients to build self-confidence and optimism and empower them to face new challenges, grow, and succeed as they never imagined. I like to build up therapeutic alliances with the clients, and create an atmosphere where they know and feel that I am there for them and that I understand and support them. I do not mind spending more time with them if this is clinically necessary. Also, under exceptional circumstances, I allowed clients to contact me on the phone outside of therapy sessions, to assist them in coping with extraordinary situations, guide them when they struggle with using newly acquired skills, etc. I came to the USA from Poland in the year of 1981. I had to start "from the bottom". I have been through many ups and downs, and painful personal losses; my mother, friend boyfriend, but I never gave up. My resilience, optimism, and positive outlook on life, did not allow me to accept the failure. Contrary, it motivated me to try harder. Most of the time it worked.
Hey!! My name is Karina Solis and thank you for reading my profile. Do you ever feel stuck in life? Feel like no matter what you do, things do not seem to get better? Do you ever feel lonely, sad, and at times like no one hears you or understands you? Do you find yourself struggling to balance your life and job? Are you struggling with stress, anxiety or depression? If so, you came to the right place as I am here to help you! Everyone can use a helping hand and a listening ear when their world feels upside down. Whether it is related to family issues, relationship trouble, work or life stressors, together we can identify what has been working out and what has not been working out in your life. We will discuss your hopes and dreams; while achieving little milestones along the way. I offer a person-center and solution focus approach, to support you in your journey. We will also use a holistic and self-approach to address not only your mental and emotional needs; but your physical health as well. I provide life, wellness, and career coaching services. It is important to not only have good mental health but also good physical health. I believe that with a little bit of help and guidance; you can achieve your goals in life. I am committed to my clients while providing a safe place to talk and address anything that is on your mind. I believe in you because you matter.
Daphne Jakstis LICSW, LCSW, CDBT
(she/her)
Hello, I am Daphne Jakstis. I have been a licensed therapist for over 20 years. I keep up to date with the latest advances in evidence-based therapy practices and incorporate them into my work with clients. Evidence-based practices are skills and techniques that have been proven to be effective. I also believe that healing is a holistic approach so I combine evidence-based practices with complementary approaches to promote overall healing and wellness. I realize that no two people are the same, so I tailor my approaches to best fit the specific needs of my clients. Whether you are struggling with anxiety, depression, trauma, or any other issue, I will help you fully realize your strengths and provide you with skills to help you manage challenges in healthier ways.
Welcome and Good day to you, My name is Twana Curry. I am an LCSW in multiple states with over 20+ years in the field. I am glad you are here, this is the first step in a journey. Do you ever feel like something is missing, but can't put your finger on it? Are you looking to go deeper in your journey, wanting to find the calm and balance with your past, present and future? This is when we seek guidance, we may be experiencing chronic stress, pain, depression, anxiety, grief, or as of late feeling like this world is not something we recognize any longer. I believe we feel our best when we have balance in all aspects of our lives, When this balance is skewed we feel drained, fatigued and easily overwhelmed. My commitment to my clients is to walk beside you in your journey, finding the balance of mind, body, and spirit. I have experience working with those who experience depression, anxiety, chronic pain, ADHD, trauma, multiple medical issues, chronic pain, and those that are struggling with everyday living, addressing the needs of your mind, body and spirit. I work with individuals, couples, and families. I specialize in Trauma, from bullying to combat PTSD, anxiety and depression. Issues that manifest when we don't process the emotional and physical pain we experience. I also work with couples who have experienced infidelity, sexual issues, infertility, or those that are going through divorce or loss of their relationship. I work from a holistic patient-centered approach, we come up with a multidimensional plan, using various therapeutic techniques such as CBT, DBT, EFT-Tapping and guided trauma work in books like " Safely Embodied", " Your a Bad Ass, Boundaries, Co-dependency No More, and Successful Aging. I use many different avenues/techniques to help you on your journey. One of my passions is using multiple collaborations of herbal, medical and nutritional treatments for mental health issues. I stress how important it is to use each session as a springboard to process and practice the new skills we discuss. Finding our essence and one's purpose in this world is the greatest force to finding balance. Making positive changes within our life. Acceptance/Resolving the negative events in our lives, and committing to minimize those effects in our lives today. My practice is online-based in multiple states.
Counseling is a unique process where you can feel safe and be yourself, create goals and find ways to improve your quality of life. As your therapist, I provide a relaxed and comforting environment for you to share whatever you choose to share. My job is to listen, provide feedback and help you develop skills to create positive change in your life. I will be able to help you reduce stress and help you grow. I am creative and comforting in my treatment process and will remain objective and non-judgmental to allow to work together on the presenting problem. I specialize in relationships, couples therapy and individual counseling. I can help you improve your relationship with your spouse, partner, boss or family members. I also work with folks who have addiction issues including substance and gambling addictions. My main focus and priority when working with clients is to provide a safe and comforting space to allow clients to engage and be open in therapy, this will help to get to the root of the presenting problem. Creating positive change, increasing self-esteem and problem-solving is the goal.
My there, my name is Tania Do you feel pulled in a million directions, unable to fit it all in? Are you struggling to keep up with your relationships, work, and health? Is it hard to be kind to yourself? I help high performers manage anxiety and avoid burnout. Together, we can identify what's not working and get you back to balance. We'll use a whole self approach, addressing the needs of your mind, body and spirit. My main goal is to help you to have a stronger relationship with yourself. Whether you're dealing with overwhelm, relationship issues, or cycles of anxiety and depression, I'm here to help. Seeking therapy can feel scary but you're making the right choice. You deserve a safe space to heal and grow. In our sessions together, I'll meet you with compassion and evidence-based techniques so you can overcome the hangups and habits holding you back. Let's work together! I am a bilingual Portuguese speaker therapist with more than 20 years of experience in Counseling. I've been providing creative, collaborative, and practical counseling for adults and adolescents. Feel free to send me an email so we can connect. Remember to always be kind to yourself.
ROSSANA SCIOLLA LCSW
(she/her)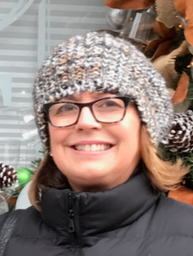 I am a Licensed Clinical Social Worker with more than 15 years of clinical experience in mental health services. I currently have active licenses from Florida and Massachusetts States. The approach I use in sessions of Telehealth psychotherapy is eclectic, including cognitive behavioral system, solution focused, relational approach with a strength base foundation. My areas of clinical work are adolescents and adults, who are experiencing depression, anxiety, trauma related symptoms and struggles with life transitions including but not limited to divorce, retirement, parenting children with special needs, grief and loss, non-binary gender clients, complex medical conditions and women issues. Tengo mas de 15 annos de experiencia clinica con servicios de salud mental y un diploma de maestria en trabajo social con licencia profesional de sico- terapeuta en los estados de Florida y Massachusetts. El enfoque que uso en las sesiones es una combinacion de terapia cognitiva, enfoques de solucion, relaciones con bases de fortalezas y habilidades de cada persona. Mis areas de solida experincia clinica son atender a adolescentes y adultos que sufren cuadros de depresion, ansiedad, sintomas de trauma y desafios emocionals que se viven en distintas etapas dela vida; salud emocional de la mujer, divorcio, jubilarse, criar hijos con necesidades especiales, duelos, comunidad LGBT, problemas de salud cronicos .
Ranu Aeron, LICSW, EMDR Certified
(she/her)
I work with children and families struggling with emotional concerns - age 10+ and with preteens, teenagers, young adults and adults. I have experience working with PANDAS, OCD & tics, Anxiety, ADHD, PTSD. I specialize in the areas of Trauma, Sexual abuse, Dissociative Disorders, Depression, Phobias and short term crisis resolution. I help my clients by utilizing EMDR, TF-CBT or CBT approach to develop effective coping skills to increase personal functioning and resilience, and release past learned maladaptive behaviors/phobias that may be causing dysfunction in their present life. I am a graduate of Boston University with over 20 years of experience in the mental health field. I was born and raised in India, and can read, write and speak Hindi, I can also understand Panjabi, Gujarati and Urdu.
Renee Tong, LCSW, LISW is a highly skilled and compassionate clinical therapist dedicated to providing exceptional mental health care and support to adults over age 18, and seniors and is LGBTQ-friendly. Her private practice began in 2007. With a wealth of experience and a profound understanding of human behavior, Renee is committed to helping her clients navigate life's challenges and achieve personal growth. Renee earned her Master's degree in Social Work from Barry University, Florida, equipping her with a solid foundation in evidence-based therapeutic techniques and theories. She went on to obtain her clinical licensure as a Licensed Clinical Social Worker (LCSW), demonstrating her commitment to professional excellence and ethical practice. She is currently licensed in the following states: Florida, Arizona, Virginia, Massachusetts, North Carolina, South Carolina, Washington, Oregon, Ohio, and Kansas. Throughout her career, Renee has successfully assisted clients from diverse backgrounds and with a wide range of mental health concerns. Her expertise spans various areas, including life transitions, anxiety, depression, trauma, relationship issues, grief and loss, self-esteem struggles, Stress and worry, Caregiver stress, PTSD, Trauma, ACOA (Adult Child of Alcoholic or Drug Addict), addictions, Relapse Prevention, Dual Diagnosis, Grief, Shame and Guilt, Abandonment issues, Betrayal, Codependency, Toxic Relationships, Postpartum Depression, and Infertility-informed. By employing a holistic and client-centered approach, Renee fosters a safe and non-judgmental space for individuals to explore their emotions, thoughts, and experiences. Renee's therapeutic style combines empathy, active listening, and collaboration, ensuring that each client's unique needs and goals are addressed effectively. She employs evidence-based interventions such as cognitive-behavioral therapy (CBT), mindfulness techniques, solution-focused therapy to promote personal insight, resilience, inner child wound work, narrative therapy, attachment style theory method along with client center humanistic approach towards positive change.
Frequently asked questions