13 Humana therapists in Louisiana
Take advantage of your Humana insurance plan. Book an appointment through Grow Therapy with a qualified and trusted Louisiana in-network therapist. Search through different certified mental health providers below and choose the best therapist for you.
Take advantage of your Humana insurance plan. Book an appointment through Gro...
Dr. Crecenra Boyd
(she/her)
LPC
20 years of experience
Virtual
Hello, I am Crecenra. Are you ready to focus on yourself and the true possibilities of your life? You have goals and they should be nurtured allowing you to focus on success. You will be given a chance to have someone listen to you which enables growth and healing from past experiences. I am a board-certified Licensed Professional Counselor with a doctorate in psychology who offers tailored approaches to therapy. You are invited to join a warm, person-centered, and nonjudgmental place where you will feel supported and can thrive. I encourage you to join me in taking a step toward better health. Looking forward to supporting you!
JohnNeiska Williams, Destined For Greatness Counseling
(she/her)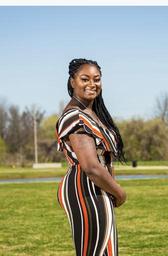 LPC
7 years of experience
Solution oriented
Authentic
Direct
Virtual
Do you struggle with just being yourself these days? Well, kick off your shoes, relax, put up your feet, let's get real and talk. Many people see therapy as a never-ending cycle of therapists sitting with a notepad repeating, "How does that make you feel?". Hi, My name is John'Neiska "JoJo" Williams and I am a licensed professional counselor in the states TX and LA, and I can assure therapy with me is never a cliche. I know how easy it is to feel alone and always ask why you. Some days it's easy to feel trapped looking for the fastest escape. At times you want to burst into tears or other times you feel like you're making all the wrong choices. I can understand if you need a break and want to scream. I'm here to help. Let's explore those issues you may be struggling with together and take back control of your life. I have certifications and a license as an addiction counselor. I have extensive training in trauma. I work well with, have over 10 years of experience, including my internship, and specialize in bipolar, women's issues, anxiety, personality disorders, LGBT issues, and substance/alcohol abuse.
Kelsey Jefferson MS, LMHC, LPC-S, NCC
(she/her)
LPC
10 years of experience
Authentic
Solution oriented
Intelligent
Virtual
Hello there, I'm Kelsey. Do you feel like you could use a break but are unsure when you will have time to fit one in? Is it hard for you to be kind to yourself or maintain relationships and overall wellness? I help clients manage various challenges that life throws their way! Together, we can look at exactly what is working and what's not working to help bring things into balance. Seeking therapy can feel scary but you're making the right choice and can expect to notice positive changes within yourself and your relationships with others. I look forward to us working together!
LPC
10 years of experience
Virtual
Stuck? Unsure? Depressed? Overwhelmed? Directionless? Grief? Irritability? Anxious? Are you ready to make a change and put in the necessary work to turn your life around? I am dedicated towards helping those seeking change and self-improvement. I aim at helping individuals navigate through the challenges of life and build resilience. My intention is to help you gain personal empowerment, hope and acceptance, self-awareness, adaptive coping skills, mental wellness and prevention of future mental health distress. My counseling style is eccentric; yet, warm and interactive because therapy isn't an "one size fits all.' Each client is unique so I tailor treatment to their specific needs and situation. If you are ready to take the next step towards a more fulfilling and happier life you're only one click away from discovering and maintaining a better YOU!
Stephen Roser, LCSW
(he/him)
LCSW
17 years of experience
Solution oriented
Authentic
Intelligent
Virtual
Hi there, I'm Stephen. Do you feel pulled in a million directions, unable to fit it all in? Are you struggling to keep up with your relationships, work and health? Is it hard to be kind to yourself? I help people manage anxiety and depression. Together, we can identify what's not working and get you back to balance. We'll use a whole self-approach, addressing the needs of your mind, body and spirit. I also integrate mindfulness and art to help you develop a stronger relationship with yourself. Whether you're dealing with overwhelm, relationship issues or cycles of anxiety and depression, I'm here to help. Seeking therapy can feel scary but you're making the right choice. You deserve a safe space to heal and grow. In our sessions together, I'll meet you with compassion and evidence-based techniques so you can overcome the hangups and habits holding you back. Let's work together!
LPC
13 years of experience
Virtual
I'm Kirk Henderson, and I provide therapy using Cognitive Behavioral Therapy, Emotion Focused Therapy, Eye Movement Desensitization Reprocessing, and Solution-Focused Therapy. I have years of experience treating Major Depressive Disorder, Bipolar Depression, Anxiety, Phobias, Trauma, and Grief. I help clients navigate life transitions such as career change, divorce, and staying in a difficult marriage successfully. I work with couples experiencing marital conflict to find a new place of intimacy and connectedness. Having a background in pastoral ministry, I am also able to provide faith-based interventions for those clients who require a spiritual dynamic in the counseling experience. Please feel free to call me with any questions, or to set up an initial consultation, and I will be glad to assist you in your journey towards peace and wholeness, and relationship success.
B. Davis RBSW-LPC-S
(she/her)
LPC
7 years of experience
Virtual
Hi there! First let me say thank you for taking the first steps to feeling like the best version of yourself! My name is Brittanee' and I am a Registered Social Worker and a Licensed Professional Counselor Supervisor for the state of Louisiana and a Licensed Professional Counselor for the state of Texas. I love everything about mental health and that is why I am here. I believe with proper guidance and a certain amount of knowledge and compassion every person can find their purpose in life. I specialize in trauma, dual diagnosis, postpartum depression, anxiety disorders, depression and a host of other mental health related disorders. I'm an eclectic therapist who will meet you where you are however; I believe CBT is always a great starting point. Looking forward to working with you!
Mayra Alejandra Nieto
(she/her)
LPC
11 years of experience
Empowering
Authentic
Virtual
My mission is to be a servant to others by empowering and helping you on your path to emotional wellness. I have helped children, teens and adults with anxiety, depression, mental health disorders, relationship conflict, and parenting concerns; assisted others to heal from acute abuse, childhood and adult traumas. I am also experienced with persons who have migrated to the US from other countries and the barriers that are encountered with those changes. Whether it be acute crises', life surprises, circumstantial stressors or complex traumas; let me teach you new skills or sharpen the ones you already use to either decrease, eliminate or change negative behaviors or unwanted symptoms. I have worked among many different populations and settings (non-profit organizations, state and government facilities, public education, and now private practice) and have learned to navigate through different challenges and with those experiences I have become a person who is compassionate to unique needs and desires. If there is an area of concern that I'm not able to assist you with I will be honest with you and seek assistance or refer you to a better qualified professional.
LCSW
7 years of experience
Virtual
You are a woman who has been devastated by grief over pregnancy loss, infertility, or postpartum depression and anxiety. You desperately want to find someone to talk to about how alone and sad you feel. You feel heartbroken, ashamed, and angry lately. Your world has stopped while everyone else seems to be living their best life. You find yourself having the same fights with your partner over and over again. Society glamorizes pregnancy and motherhood which can make you feel even more alone and misunderstood. If you see one more pregnancy announcement or social media post about the happiness of motherhood, you might lose it! Your baby is important to you no matter how much time you have spent with them. You want to learn how to keep your baby's memory alive. You want to learn how to experience happiness during this new transition to motherhood. You want to feel heard by someone without shame or judgment. You are not alone. As a woman, I have been there.
Dr. Tonnessa Gibson
(she/her)
LPC
13 years of experience
Virtual
Dr. Tonnessa L. Gibson is a Board Certified Licensed Professional Counselor. She obtained a Doctorate in Counseling Education from Texas Southern University and a Master's degree in General Counseling and Guidance from Louisiana Tech University. Dr. Gibson has over 13 years of experience providing counseling services to individuals and families in a multifaceted environment. She has developed skills in crisis intervention, stress management, mindfulness, and individual services. Dr. Gibson has also provided services to clients from various ethnic and cultural backgrounds as well as age groups and developmental levels. Dr. Gibson is tenacious and has the desire to aid others (individuals, children, adolescents/teens, couples, LGBTQ+, and communities) in identifying change and coping strategies.
Kimberly Hutchinson
(she/her)
PhD
26 years of experience
Virtual
Hi, my name is Kimberly Hutchinson. My goal is to empower you. All of us feel down or overwhelmed at times in our lives, or maybe it even feels like more than that. I'm here to help. With a busy life, additional emotional support, a sense of direction, or help understanding current circumstances may make navigating life's challenges a little easier. By working together to clarify the difficulties or challenges, and then working through them, you can achieve therapeutic goals that enable you to obtain greater self-understanding and grow into a life with less anxiety and a better ability to withstand the stresses of the everyday world. I am a licensed clinical psychologist and I have more than 25 years of experience in the field of mental health. My approach to therapy is collaborative, which means we work together. I use evidence-based cognitive-behavioral and supportive approaches. Sometimes we may talk about the past, but the focus is on the present and helping you move forward. My expertise includes anxiety, depression, domestic violence, obsessive-compulsive disorder, trauma, adjustment, and stress management. I have specializations in neuropsychology and rehabilitation psychology (e.g., stroke, health problems), so I also work with individuals who have issues such as ADHD, Asperger's syndrome/autism, the effects of stroke or adjusting to a medical disorder. You can expect a collaborative, practical approach to therapy with achievable goals. I look forward to working with you!
LCSW
3 years of experience
Empowering
Warm
Solution oriented
Virtual
Hi there, I'm Denise. Do you feel anxious, worried, or depressed and overwhelmed with your life? Are you struggling to feel happy? Do you feel past trauma is affecting your ability to heal? Is it hard to be kind to yourself or to tell yourself that you are doing all that you can? Together, we can build a safe place so that we can find what's not working for you and get you back to a place where your mind, body, and spirit feel at ease. We'll use a mindfulness approach and identify those negative thoughts and come up with a balanced adaptive thought that can help you feel better. I integrate mindfulness and an Eye Movement Desensitization Approach (EMDR), along with Cognitive Behavioral Theory and several other approaches to help you develop a stronger relationship with yourself. All of this comes from a strength based, trauma informed, culturally informed perspective where we will identify your strengths and your plan to help yourself heal. I'm here to help and understand that seeking therapy can feel overwhelming and scary but you're making the right choice. You deserve a safe space to heal and grow. In our sessions together, I'll meet you with compassion and evidence-based techniques so you can overcome the thoughts and habits holding you back.
LCSW
7 years of experience
Empowering
Solution oriented
Authentic
Virtual
Welcome! I'm an LCSW and Louisiana native who practices in both, Texas & Louisiana. I've worked with a variety of clinical presentations, in various clinical settings. I have experience working with youth, adults, veterans and families. The settings in which I've practiced include intense inpatient, clinic, substance use disorder treatment, mental health rehabilitation, correctional rehabilitation facility and school settings. I'm newly EMDR TRAINED. I collaboratively assist clients with improving their self-esteem and self-worth, processing trauma, managing depression and anxiety, challenging negative thought processes, emotion dysregulation, and processing symptoms of grief and mood disorders. This is a collaborative therapeutic process that allows transitioning through validating and supporting clients as experts of themselves; and fostering healthy intrapersonal and interpersonal relationships through establishing boundaries, resolving symptoms of grief and trauma, modifying negative core beliefs, managing anxiety and depression, decreasing mood swings, and fostering one's sense of self. I've worked with adults, families and adolescents who experienced anxiety, depression, family transitions, trauma wounds, anxiety, low self-esteem, PTSD, LGTBQIA transitions, substance use, bipolar mood disorders, personality disorders and several other life challenges. etc. Many of my clients have come to therapy due to academic, professional, and personal experiences with trauma throughout a lifetime, changes in family relationship systems and dynamics, substance use, declining mental health, work and familial stress, veteran related issues, and low self-esteem and self-worth; due to a variety of life changes and transitions. I also collaborate with clients to engage in self-compassion and develop healthy boundaries during the experiences of processing and grieving their loss of self due to external and internal expectations. I have been so honored to witness and be present throughout my client's journeys of evolution if only to help unburden them from some of the heaviness that they've carried for some time. I strive to be both non-judgmental and collaborative when a client feels safe enough to share vulnerable experiences with me.
Frequently asked questions
---
---
---
---
---